Introducing: An Old Fashioned Candy with a brand new twist! This traditional confection is rebounding in popularity as modern brides are discovering their great potential as a wedding day treat.
Idea #1
Candy Sticks as a Wedding Favour- bundle them up in an organza bag or tie them up with a ribbon to create an inexpensive wedding favour. If you are interested in a bonbonniere that is "Cheap and Cheerful" this is it! With 21 flavour options in 21 different colours, you will be able to find something for every taste and colour scheme. Consider giving 3-5 candy sticks per person, you can choose a single matching colour/flavor or mix them up and give each person a rainbow of sticks.
These can also be added to another more substantial favour. Slip a candy stick into the ribbon on a boxed favour or pop several of them into a personalized shooter glass.
Combine them with personalized ribbon and a custom tag for a simple and crowd-pleasing favour.
Idea #2
Candy Sticks in a Candy Buffet- A candy buffet is a fabulous idea for a wedding favour and activity in one. Each guest is given a bag or box and invited to fill it up with their choice of sweet treats. It is a good idea to offer a mix of candies that will appeal to varied taste and also to include some larger volume treats- these candies help you keep your costs down. Certain candies (chocolate for example) is a very expensive way to fill up the favour bags. Old Fashioned Candy Sticks are affordable, brightly coloured and individually wrapped – all these facts make them an ideal addition to a wedding day candy buffet.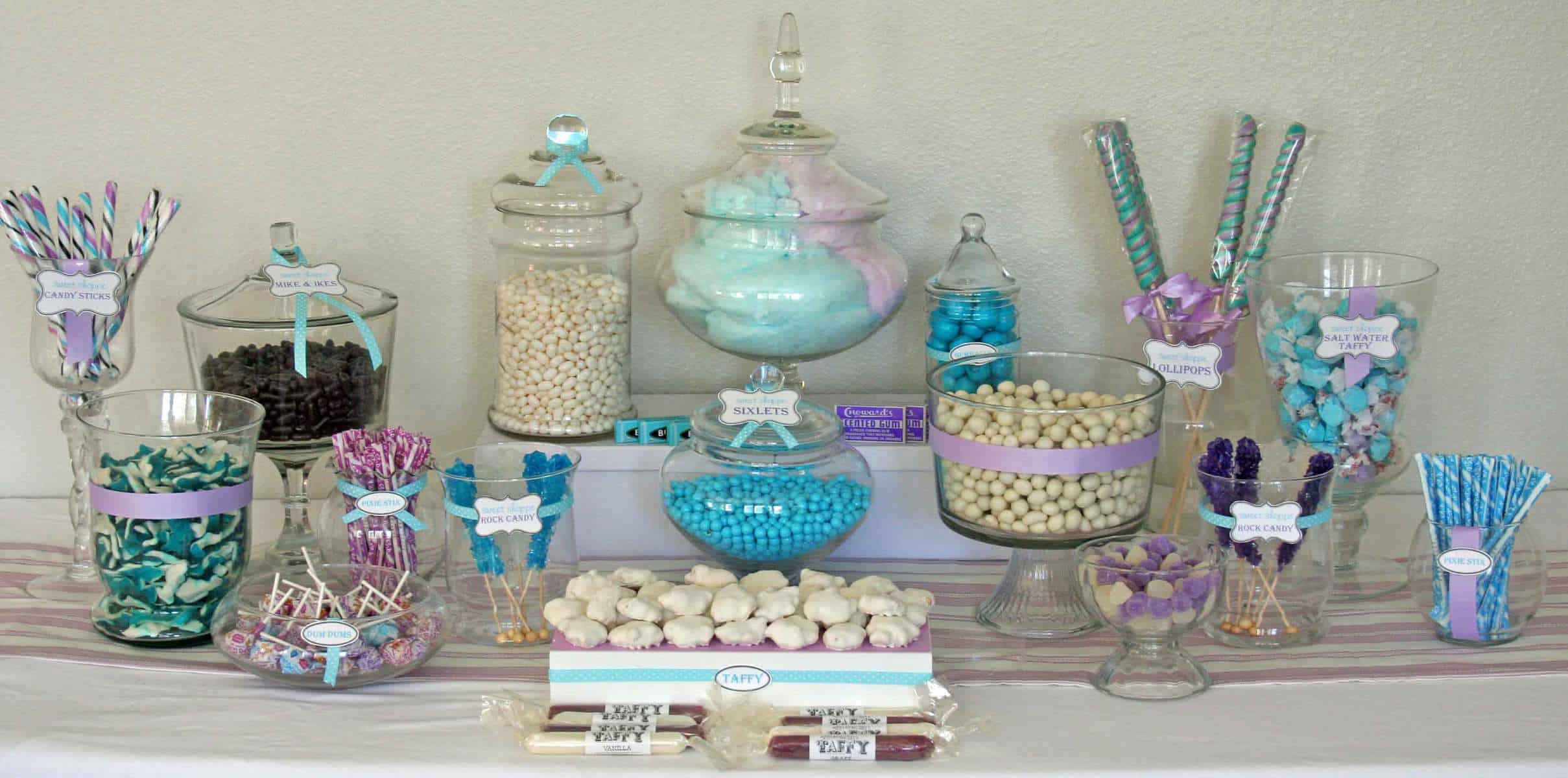 Idea #3
Candy Sticks in a Hot Chocolate Buffet- A Hot Chocolate Buffets is a fabulous idea for a frosty winter wedding or Holiday Party. These Old Fashioned Candy Sticks will make a great addition. Invite guests to choose their favourite flavour and use them as stir sticks. They look great arranged in a bowl or mug and can add a bit more interest to the buffet table and a shot of flavour to the hot beverages. Flavours such as Cinnamon, Strawberry and Peppermint are most appropriate for this purpose.
Idea #4
Candy Sticks in edible Centrepieces- This is a fabulous way to stretch your reception dollar with multitasking. A candy centerpiece will add charm and colour to your wedding reception tables and also double as a favour for your guests. Choose inexpensive vases and attach wooden skewers to a variety of candies. Soft gummy candies can be stuck right onto the stake like shish-ka-bobs. Chocolate bars can be glue gunned into the stakes and candy sticks can be affixed with floral tape.
Position the candies into a visually appealing arrangement. It should look filled and even from all sides. Choose candies that match your colour scheme. You can fill the vase base with hard wrapped candies or coloured cellophane to disguise the bottoms of the wooden stakes.
Even if this is not the mood you want to create for your entire wedding- it would be a great addition to the dessert offerings, treats at the bar, centerpiece for the kids' table or a decoration at the guestbook table. Create a whimsical note card inviting guests help themselves to their favourite treats!
Idea #5
Candy Sticks as a ?? Do you have an idea? Send it to us! Use your imagination and send us pictures of how YOU used these great candy sticks.
For full product information: Click here to visit the Weddingfavours.ca Website.